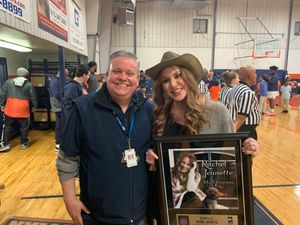 NASHVILLE, TN (Feb. 3, 2020) Who says you can't come back home? Recently, Rachel Jeanette was invited to return to her former high school, Lighthouse Christian School in Antioch, Tennessee to sing the National Anthem. The actress known for her roles in the Hunger Games series, Divergent and 90 Minutes In Heaven has been garnering attention for her music lately, due in large part to the release of her Christmas album, "My Christmas." 
The album was produced by award-winning producer Steve Allen. It was picked up by numerous major networks and retail stores, including Dollar General for play during the holidays.
"The way people listen to music has changed and to have Rachel's music highlighted in stores from coast to coast and in multiple other countries was a huge accomplishment," stated Matt Felts, Gateway Management. 
While at her former school, Rachel was surprised with a special honor, a plaque celebrating her radio success presented jointly by Gateway Management, Dollar General and Play Network.
"I was able to sing the Anthem here many times as a student. It was special to come back and do it again. Lighthouse and their teachers invested in me. They not only cared about the classroom but also invested into my life outside of the classroom. It was great to be back to sing and cheer on the Lions!" added Rachel Jeanette.
Rachel is currently in production on a major album scheduled for a Fall of 2020 release and is also working on numerous film roles. To learn more about Rachel Jeanette, go to racheljeanette.com.