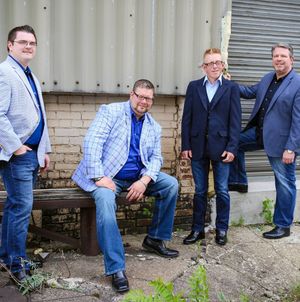 Nashville (March 2, 2020) Gateway Management has announced that they have signed GloryWay Quartet to a management deal.  
The Ohio based group has emerged over the last year as one to watch, winning the 2019 Diamond Award for Favorite New Quartet and appearing on numerous national radio charts. While the group has been going for nearly two decades, the current lineup has turned heads at major venues across the nation. "They have a huge sound that quartet fans love. I've seen them take the stage with groups such as the Hoppers, Isaacs, Jason Crabb and leave the crowd on their feet. That say's a lot," stated Matt Felts, Gateway Management.  
GloryWay recently wrapped up a multi-state tour that saw great crowds and new fans. The group will be in the studio in the spring to begin work on a major release project. "I've had the honor to call these men friends for almost fifteen years and I've seen them develop into a top-notch group. I'm excited to work with them," added Felts.  
Gateway Management works in management, tour management and event production for artists and organizations such as Carman, the Browders, Jackson Heights and more.  
Fans can learn more about the GloryWay Quartet by going to there website, glorywayquartet.com or their Facebook page.